Mobile Truck & Trailer Repair says it all.. 
Whether you call it a service truck or roadside truck repair, or a mobile trailer repair on the highway or simply a mobile mechanic, Coppertop Truck Repair is your one stop solution.
We offer 24 hours per day 7 days a week immediate road side heavy duty repair, the difference is we have fully certified and fully tooled and equipped service trucks that will get your commercial truck or trailer up and running quickly and for the log haul.
We have all been there... waiting to get your heavy equipment fixed and to have someone come out with incorrect equipment and virtually no parts, all meaning the cost is going to be higher and the amount of lost time mounting. Avoid this by going directly to the experts, who are equipped to get you on your way, all with over 15 years experience in mobile heavy duty emergency repairs!
Why use our roadside heavy duty truck and trailer repair services?
Avoid costly tow bills
On site repairs of most makes and models of Trailers and Trucks
Avoid expensive downtime
No answering service, talk directly with mechanics
24 Hour
Emergency Service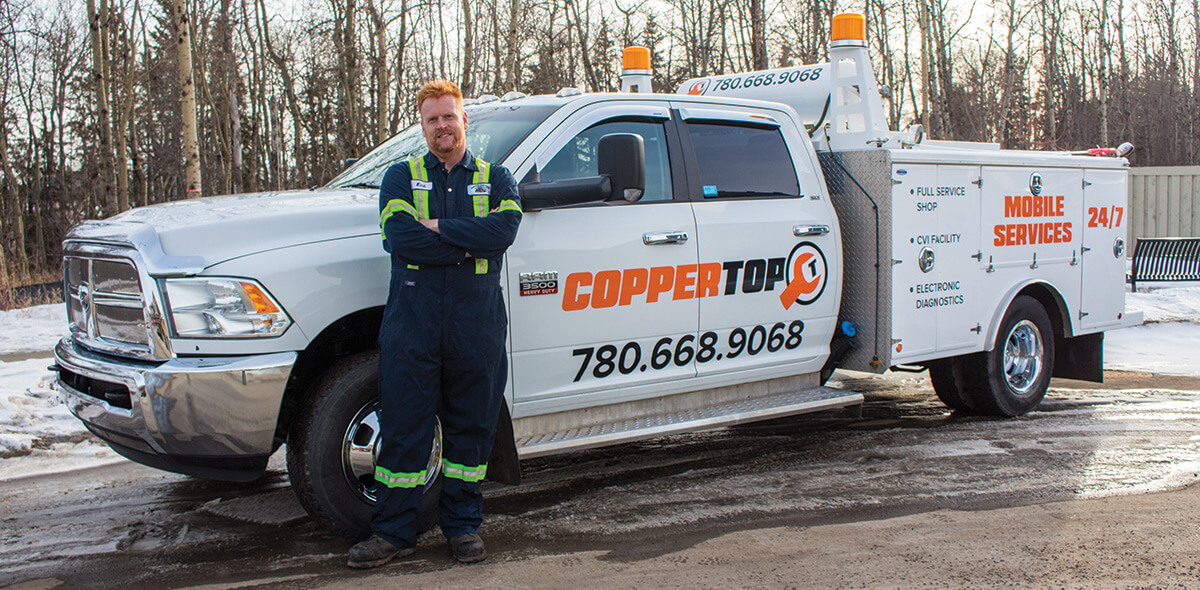 When you are stuck on the highway and downtime is not an option, we will come out to you with a stocked service truck with full welding gear and spare parts. We carry commonly used parts such as brake pots, air brakes, governors, purge valve kits, and a variety of fittings to get you back on the road again.
We come fully equipped with the latest diagnostic software and expertise to deal with todays modern engines, whether it be a simple brake issue or a complete replacement of turbos or DPF.
Most repairs are done on site as long as it is safe. If your truck won't build air, the brakes are frozen, you have broken airlines, there are coolant leaks, you have run out of fuel, there are fuel leaks, or your truck just won't start, we can be there to fix it and get you rolling again.
Stuck in the middle of nowhere but need to get somewhere?
Whether your brake pot is leaking on the Henday or your truck won't run properly in Norman Wells we can be there and help!
Coppertop's customer recommended heavy duty technician staff can be there within hours if not minutes to ensure you have as little downtime as possible. 
Looking for more comprehensive services?