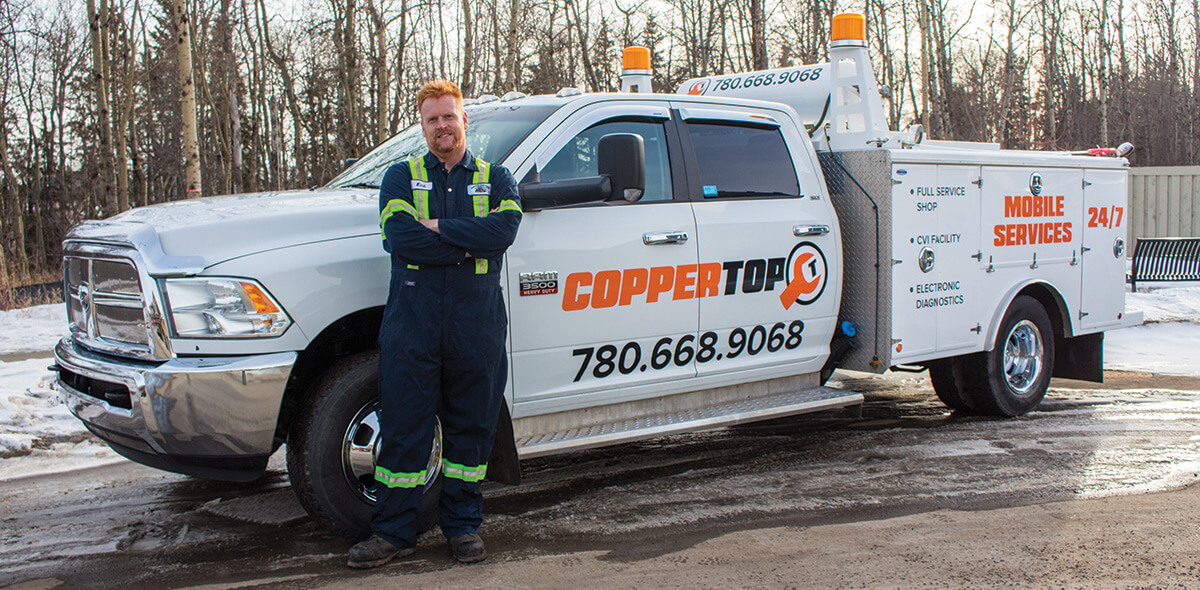 Heavy Duty Truck Repair Edmonton
Heavy Duty Truck Repair Edmonton
Are you in need of a reliable heavy-duty truck repair company in Edmonton Alberta? Then seek out the services of Coppertop Truck Repair, your commercial truck repair professionals. Our team of heavy-duty technicians will get you back on the road in no time.
All kind of heavy-duty repair services
Call the best semi-truck service repair company. We have a team of experts in heavy-duty truck repair services, both in our shop or in the field helping truckers with their broken rigs out across Alberta. Suppose you have a diesel-powered truck, seeming not to get fuel or air filter issues, or you are experiencing a no start issue. Downtime can be costly for trucking businesses, and mid-transport mechanical repairs can be a real hassle. However, we have a fleet of 24/7 roadside mobile service trucks in Edmonton and the surrounding areas such as Nisku, Leduc, Acheson, or  Vermillion to Edson to name a few areas, in fact, we service all of northern Alberta.
Our mobile heavy-duty mechanics Edmonton will perform truck or even commercial trailer repairs at any time of either day or night. We have a well-equipped team of red seal journeyman technicians to handle all emergency truck repair services. We will ensure you get back on the road to minimize your downtime with our quick response time, and amply equipped onsite heavy service trucks.
Get your 24-hour heavy-duty road assistance
The goal of our 24-hour road service is to assist you in recovering your work and travel time by providing accurate truck or trailer repair wherever you are in Alberta. If you encounter trouble, you should not hesitate to give us a call for a speedy response, and proper heavy truck repairs, done right the first time and on time
We help with commercial transport businesses and fleet accounts in Edmonton, Alberta, and the surrounding areas. Keep your commercial truck fit to report back to work in hours.
One time solution for all your braking system overhaul
The brake systems of a heavy-duty truck involve highly engineered parts meant to convert kinetic energy to thermal energy for it to stop the truck. Then it would help if you planned for truck or trailer maintenance or repairs. If you notice the below signs with your heavy-duty equipment, call us and get a fully certified technician on the phone for quick troubleshooting to assess your repair service needs.
Signs of faulty brake system
As far as heavy-duty trucks are concerned, brake service is usually done when mechanics routinely lubricate the chassis and inspect/peer through the access holes in the dust shields - when they are fitted - and often discovering the linings are worn thin. For a conventional S-cam brake this might be around the 500,000-600,000 kilometers point - although good drivers can make a set of linings go out to double this mileage.
Signs you need to commercial truck brake service
Brake Lights are on
Fluid leakage
Pulling to one side
Squealing or grinding noises
Vibrating or shaking of the truck.
A breakdown in these systems can mean a breakdown on the road and an expensive trip to a repair shop. The good news is, nearly all those problems are preventable with our heavy-duty truck maintenance services. We have whatever a customer may ask, whether it is the newest gear and equipment or an older rig that you cherish.
Our Edmonton mobile heavy duty mechanic will provide you with repair service for not only your truck but commercial trailer brake systems, all accompanying components of the brake system such as brake pads, parking brakes, brake shoes, rotors, hydraulic systems, and drums.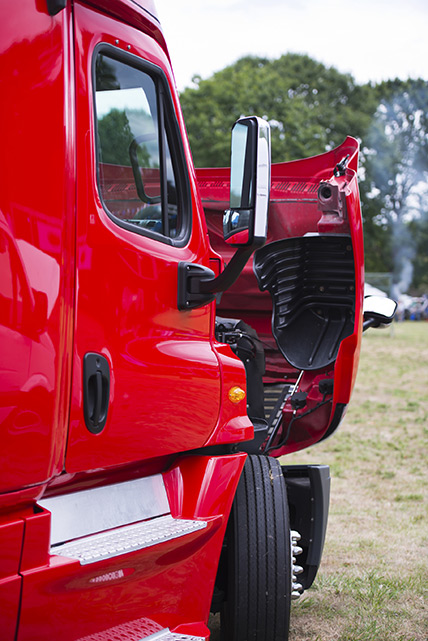 Diesel Engine Repair
Your Diesel engine plays a significant role in commercial truck performance, and the truck drivers and commercial truck operators need to worry about maintenance services or who to seek immediate repairs from Coppertop is here to help! There are various signs you need to watch out for that alert you for approaching diesel engine repairs or service.
When your diesel engine runs at very low RPMs, or it is hard-to-start the engine, which are signs of low fuel pressure; however, these signs can be the symptoms of low fuel quality or insufficient fuel supply.
Our top Edmonton commercial truck and trailer repair mechanics will solve all your engine and or fuel issues. Just pick up your phone and call us if your truck has that or other issues such as transmission or other problems. We will respond quickly and meet all your repair needs. We have over 15 years of experience dealing with heavy-duty truck repair services.
Heavy truck steering repair and maintenance services
Is truck steering stiff? unsteady, and shaky?. You should know how to identify every steering and suspension issues. That will assist you in determining when you need to schedule an inspection or a maintenance service. Book your appointment today and request a free quote.
We have professional red seal fully certified journeyman technicians who will inspector trucks in Edmonton, Alberta, and all the surrounding areas. Either our heavy-duty shop or our mobile service truck will ensure that your heavy truck-duty is well-maintained and properly equipped for long use on our challenging highways.
We can carry out major CVIP (Commercial Vehicle Inspections) for every make and model of semi-truck as required by the province's regulations as set by the Canadian Government. We will ensure your truck and trailer drivers get a full checklist of approved items after the service is complete.
If your heavy-duty truck or trailer is deemed unsafe by our service staff member, we will advise you to remove your big rig from the highway and wait for our repair team to resolve any deficiencies. The main goal of our inspection is to ensure that your truck or trailer drive's safely and meets Alberta's minimum safety guidelines; this is the primary reason for a significant amount of truck accidents.
Looking for heavy-duty truck repair services in Edmonton or across northern Alberta, please call us today for more information.
Kirk's Top Resources Surrounding Edmonton: